Archie is 3 years old, an identical twin and was diagnosed with stage 4 high risk Neuroblastoma in January this year.Neuroblastoma is one of the rarest and hardest to cure of childhood cancers.Archie is aiming to raise the funds to undergo a vaccination treatment in the US that will look to give him the best chance of beating the disease for good.
Archies diagnosis and treatment:In December '18 Archie became unwell and was unable to stand. After a few weeks of trips to A&E and various diagnoses, Archie was eventually kept in for extensive checks.'We knew it was serious when an ultrasound found a large mass around Archies kidney.'On 18/01/19 Archie was officially diagnosed with neuroblastoma.Archie has 2 tumours around his kidney and spine. The disease had also spread to other areas, including his bones and bone marrow.Archie's treatment quickly began the day after his diagnosis. Treatment for Neuroblastoma is long and aggressive, but Archie is taking it in his stride. It is tough, but Archie always manages to smile and make the nurses laugh.
Archie has now finished his first course of chemotherapy which has slightly reduced the areas of disease. He will now undergo further chemotherapy to greater rid the disease and reduce the size of the tumors. This will then be followed by surgery, radiotherapy, intensive chemotherapy in isolation and immunotherapy, along with other things along the way depending on how he reacts to the previous treatment.The treatment, if all goes well is expected to last up to 18 months. The NHS are fantastic and doing everything they can. However, this is an aggressive and difficult disease Archie is fighting.Children that successfully complete Neuroblastoma treatment and become 'cancer free' still have a 50% chance of relapsing.Once a child relapses with Neuroblastoma, 90% will not survive.
Archie is aiming to raise the funds to receive a vaccination treatment available in the US once treatment has been completed. The vaccination should eliminate the chance of a relapse.Archie is a fighter. He is an identical twin and suffered with Twin to twin transfusion syndrome while in the womb. His mum had life saving laser surgery at 17 weeks inside her womb to allow Archie and his brother, Henry to feed and grow.Archie and Henry spent their first 6 weeks in intensive care and Archie has been growing into a strong, caring boy with a cheeky smile since.Archie and Henry have been together from their first minutes and it's hard for them being apart while Archie is undergoing treatment. When they do get to see each other, their love and smiles are amazing to see.We are aiming to give Archie the best possible chance of continuing to bring smiles to everyone's faces in the future and continue to be Henry's partner in cheekiness.
Unfortunately our Events for 2021 have been cancelled until further notice.
As we are unable to host any fundraising Events at the moment.
If you would like to donate to either of the boys. Please do so using their donate buttons.
We thank you for your continued support.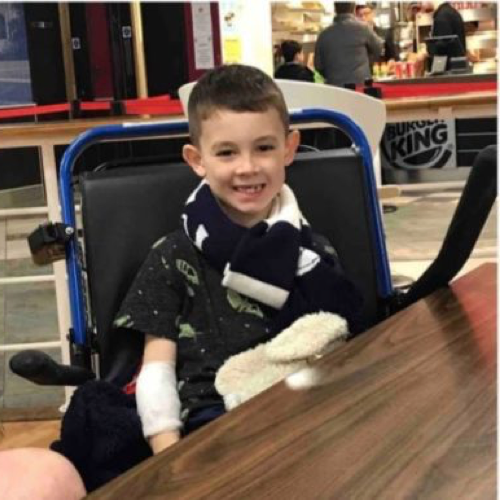 Rhean is an 8 year old boy from Cambourne who has been diagnosed with a brain tumour. He has already undergone surgery. He now requires a minimum of 6 weeks of radiotherapy and proton therapy which will be in either Germany or Manchester. The family are trying to raise funds to help them through this difficult time. Rheans Dad has had to give up work to look after Rhean's siblings a 2 year old and baby at 7 weeks old. As Mum will be with Rhean whilst he undergoes his treatment.
As you can appreciate this is going to be a very expensive time for them, with travelling expenses, accommodation, alongside their usual Bill's that obviously still need paying.
Please help us to raise money keep and eye out for our Charity Events and please get involved. As always your kindness and support are always appreciated.